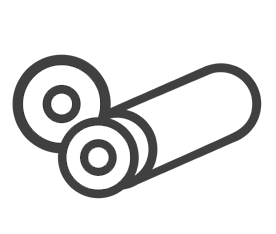 Automatic core cutter ATG-2000:
---
The automatic slitting machine enables continuous cutting to any size of paper thimbles. The machine retrieves items from the warehouse, and then starts the cutting process, segregating the land and waste. The basic input data for its work is the cutting length, the size of the bushing and the amount of land. It is a unique project based on high quality mechanical components and reliable automation. In addition, the basic assumption of its design was compatibility with other machines and the introduction of the Industry 4.0 concept.
The automatic cutter has been equipped with electro-mechanical components from Bosch Rexroth, including: EMC actuators and a module linear MKK, activated by servo motors from the MSM. The motors are controlled by the IndraDrive CS compact servo drives with Safety technology.Additionally, EFC inverters with asynchronous motors were used to obtain rotational movements of cutting elements. XM21 motion controller controls the machine as a whole, having digital and analogue inputs in the S20 series. Human-machine interaction was implemented using the VR21 HMI panel. The entire process can be controlled via a tablet or smartphone.
Technical specification:
---
Cores internal diameter: 30-152 [mm]
Purpose: Cutting of Paper cores
Maximum core thickness: 12 [mm]
Minimum core thickness: 2 [mm]
Maximum core lenght: 2000 [mm]
Minimum core lenght: 1000 [mm]
Minimum cutting lenght: 12 [mm]
Loader size: 20 cores 76,2 [mm]
Touch screen panel: 4" HMI
Fill out the form below. We provide you with the offer best suited to your needs.
* Fields are an asterisk are required.

---
NEMITECH Sp. z o.o.
ul. Poligonowa 22, 18-400 Łomża
tel/fax: +48 505 420 211
e-mail: nemitech@nemitech.pl
---
Sąd Rejonowy w Białymstoku, BI.XII Wydz. Gosp. KRS 0000672779, NIP 7182145994, REGON 367001883, Kapitał zakładowy: 50.000,00 PLN