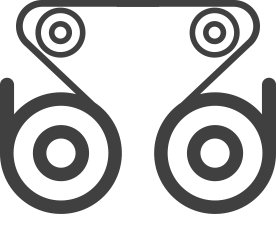 Rewinder WT-1000:
---
We equip the rewinder with ribbon guidance systems, automatic control tension system, foil edge slitter systems (winding or pneumatic collecting waste), a table for combining materials, deionizers, pneumatic clamp for the winder.
Fastening of the material can be done using quick clamping handles and expansion shafts or pneumatic pivots, mechanically activated by lateral force. There is a possibility of using hydraulic retrieval and collection of material bales from the machine.
Dane techniczne:
---
Working width: 1000-1500 [mm]
Unwind diameter: 1200 [mm]
Rewind diameter: 1200 [mm]
Max mass material: 800 [kg]
Brakes: Pneumatic/ Pneumatyczne - RENOVA
Expanding chucks: Mechanical / Pneumatic
Web Tension control: Automatic - Load Cells/ dancer shaft
Web guiding: Automatic - ultrasonic web guiding system
+-25 including oscillation
Hydraulic lifting of parent roll: Control of the hand panel
Touch screen panel: Siemens – KTP700
Fill out the form below. We provide you with the offer best suited to your needs.
* Fields are an asterisk are required.

---
NEMITECH Sp. z o.o.
ul. Poligonowa 22, 18-400 Łomża
tel/fax: +48 505 420 211
e-mail: nemitech@nemitech.pl
---
Sąd Rejonowy w Białymstoku, BI.XII Wydz. Gosp. KRS 0000672779, NIP 7182145994, REGON 367001883, Kapitał zakładowy: 50.000,00 PLN